Overview
Understanding the design processes applied by UX professionals is the rage of the day. Therefore, I thought it would be fitting to share my philosophy on design processes. As one with over 20 years of experience, I have learned two key things that I should explain before addressing the topic and listing the processes aligned with my skill set:
There isn't a one-size-fits-all design process and

The process varies based on the project or organizational need or preference.
General Approach
Considering that the goal of proper UX operation is to marry user needs, business needs, and align in conjunction with various types of constraints, after learning the rules of engagement in place for an organization or project and adapting accordingly, I always follow a semblance of the 5 Planes design process made famous by Jesse James Garrett in the early 2000s. My approach always includes the following steps:
Seek to identify user needs and business objectives.

Obtain and confirm requirements and any known functional specifications (e.g., through interviewing stakholders and subject matter experts or conducting design sprints).

Engage in efforts to learn more about user needs, processes, and pain points through research (e.g., ethnographic studies, contextual inquiry, interviews, surveys, etc.).

Ideate and brainstorm about information architecture and interaction design principles.

Begin implementing IA and interaction design elements through initial construction of the interface.

Facilitate data-driven efforts by validating designs via research.

Iterate based on data obtained through research.

Dialogue with developers and quality assurance personnel during various stages of the design process, when possible and as applicable.
I have found this approach to be extremely useful and successful, no matter the SDLC employed by an organization. Variances associated with specific processes are explained below.
For agile environments, I strive to identify and commit to tasks during each sprint and report to the team daily and during the retro.
For Lean UX, I work to design and iterate quickly, seeking quick and actionable feedback on work to help the team achieve the associated goals.
I value the ability to gather stakeholders together for an extended period of time and view design thinking as a way to quickly secure information and help drive design efforts efficiently.
I work to offset the longer timelines by optimizing efficiencies that eliminate rework and sharpen decision making via data.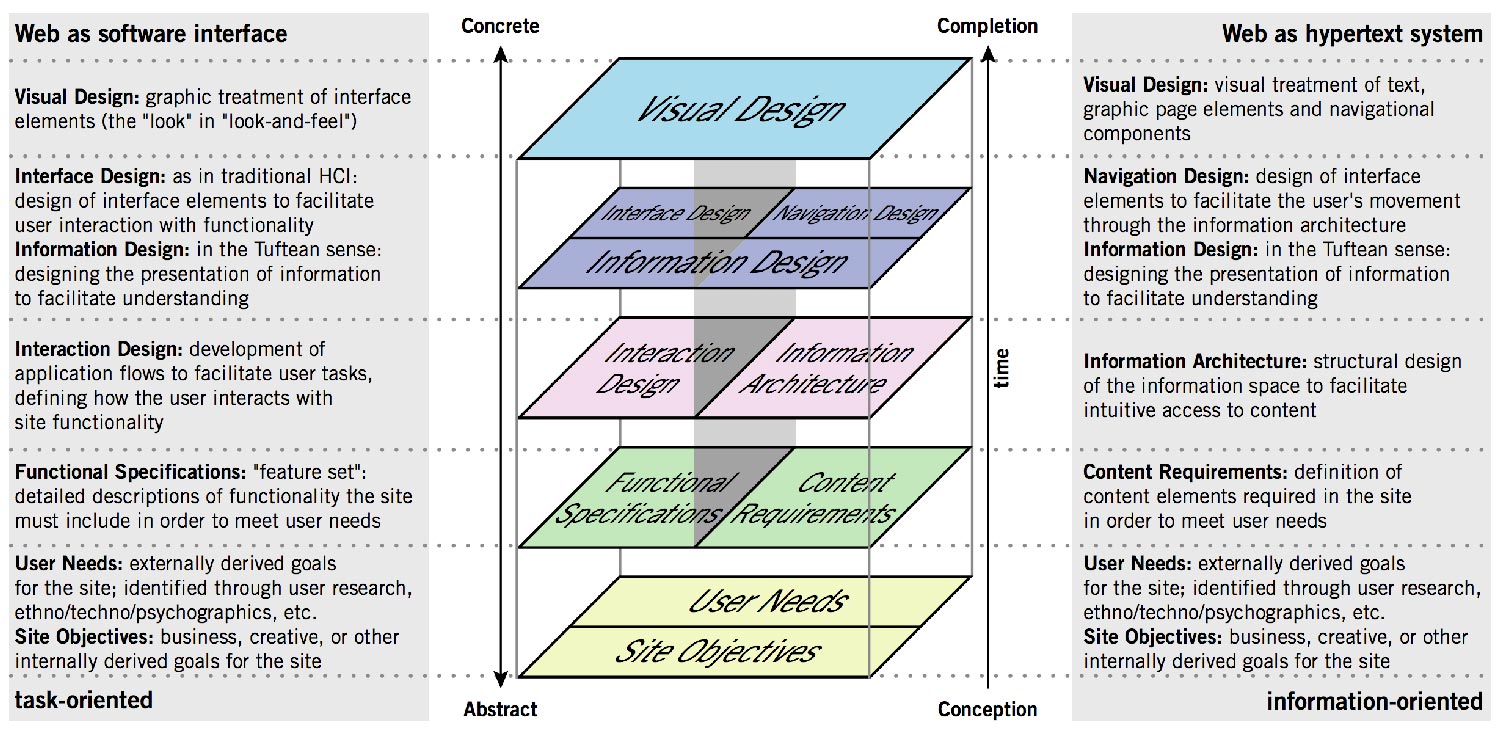 Source: Jesse James Garrett — The 5 Planes Design Process
Research
Heuristic analysis

Remote usability testing

Design thinking facilitation

Interviewing

Contextual analysis

Ethnography

Card sorting

Survey design and management

A/B testing

Multivariate testing

First-click testing

Competitive analysis

Formative & summative

Qualitative & quantitative

Data synthesis & analysis
Information Architecture
Taxonomies

Nomenclature

Information scent analysis

Task flows

Optimizing findability
Resources
Wireframing


Prototyping

Personas

Experience maps

Journey maps

SWOT analysis

POV decks 
Form Factors
Desktop

Mobile phones

Tablets

Interactive TV


Hardware

Ergonomics
SDLC
Waterfall

Agile

Lean UX

Confluence

JIRA

VSTS
Miscellaneous
Interaction design

Interface design

Instructional design

Desktop publishing

Photography

Videography

Social media management